It has been one of those months around here.  I have made countless cards and invitations, none of which I photographed.  My projects seemed to go nowhere – and looking back at my last posts, they really have gone nowhere.  In my last post, I showed you this layout of my daughter, which I absolutely love.
Since then, I have painted the plain wood frame and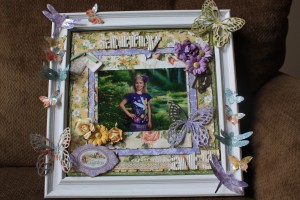 decorated it with die-cut (Spellbinders) butterflies and dragonflies.  After die cutting the images, I coated the small butterflies and the dragonflies with Stampin' Up Glossy Accents, let them dry and affixed them to the frame, also using Glossy Accents.     I don't necessarily recommend Glossy Accents for this purpose and would love to know of a strong glue that is good for this purpose.  I am quite happy with how the result looks, if not the durability of the glued on dies.
I have also been working on my 5″x8″ magnetic box.  Last time I showed just the mini album that the box holds, but I have covered most of the outside of the box and some of the inside.  I haven't had a chance to decorate most of the inside of the box, but that is the next thing on my list.  I also am Looking forward to finishing off the front of the box with some flowers or metal embellishments.
 Finally, on Mothers Day,  my present from Steve and the kids was an art journal, which is really a place to play with my Dyelusions, stencils and stamps.  It is really fun!  I have done one page.  On the opposing page, I have created my Dyelusions base but have not yet stamped or stenciled that side.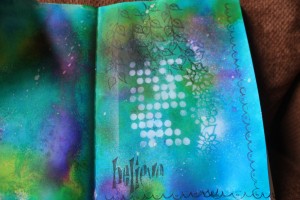 Next time, I hope to have more completed work to show you!  It means that I have had much more time to scrapbook.