I went to a retreat this past weekend up at Camp Stillwood at Cultus Lake.  It was a very beautiful setting but as it was pouring rain, I felt no need at all to hike and explore the camp and surrounding areas.  So I did nothing but scrapbook!  Scrapbook retreats are pretty close to heaven in my world – I have some of my good friends there, food is made for me and I can scrapbook or even read all day.  Some of my layouts are as follows: 
This double page layout is done on Bo Bunny's Apple Cider paper – just a gorgeous fall collection of paper.  The following layout also is using Bo Bunny's Apple Cider.  I really enjoyed the stunning fall colours of this line.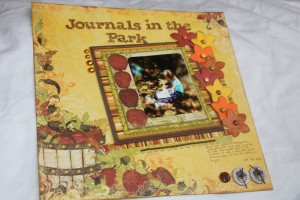 I haven't got a clue which paper line this is, but I have used it for every single one of Brendan's hockey pictures.  I think very little needs to be done to embellish these papers; they are effective with very few additions.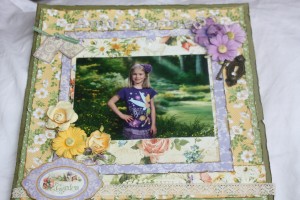 I absolutely love this layout of my daughter.   The photo is her spring school photograph.  The paper is Graphic 45's Secret Garden
U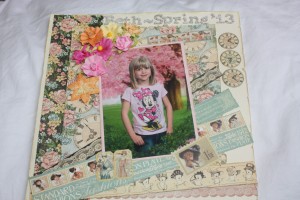 I also love this layout of my younger daughter in her spring photo.  The paper is Graphic 45's A Ladies Diary, with slightly more muted tones.  The papers are beautiful!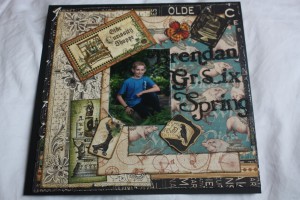 This is my son in his spring photo.  Like the other two, I turned again to Graphic 45 for inspiration, but avoided all the girly flowers and stuff.  I used Graphic 45's Olde Curiosity Shoppe which is  a great paper line, very whimsical, especially the flying pigs!
I also did two one page layouts of Brendan's fall school photo – actually, I did three, one for me and one for each set of grandparents, but I didn't really like the third one as much.  In the first layout, I used Bo Bunny's Weekend Market, which is a terrific paper line, especially for masculine layouts.  On the second layout, I used Graphic 45″s Kraft Recollections, which I find much more subtle than some of G45's lines.   It also underlines a point I wanted to make – dream of Paris – dream of travel, adventures, excitement – dream as big as you can go.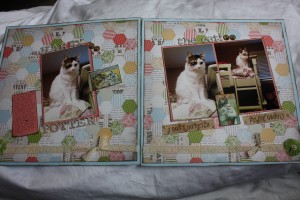 On this kitty layout, I tried to keep my embellishments simple because the Stampin' Up Tea for Two paper is quite busy but very pretty.
I hope you have enjoyed these layouts.